How Can You Join?
We ask prospective members to visit us at least three times before applying for membership in the chapter. You will be placed in the proper voice section and given all the help you need to learn your part. An application can be obtained from the Chapter Development Vice President or Chapter Secretary. For more information please call Jim Bishop, Chapter Development Vice President, 330-825-4584



Who Can Join?
We invite any man who likes singing and harmonizing, and who enjoys sharing the fellowship of other good-natured men. Men from all walks of life and between the ages of 11 and 86 are currently part of our group. You don't have to know how to read music; you just have to love to sing. Guests are always welcome, so why not pay us a visit.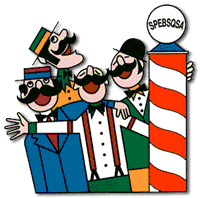 Benefits of Joining
As a member of the Akron Chapter of the Barbershop Harmony Society, you will become part of the largest men's a capella singing organization in the world. Members are invited to attend local, regional and national competitions and conventions. You will also meet many new friends who share your love of music and singing.